Saturday night, the crew from the hostel went to a local bar, Joe's Garage. I got to know several wacko/crazy travelers. Kevin the crazy Californian is travelling from city to city, staying (at most) for a single night at each. Cathy and Catherine were from Seattle and they like living on bread and candy when they find themselves in an expensive city. For them, visiting Prague was more of a nutritional necessity than anything else. There were 2 short girls from Chicago who seemed to know everyone at the bar, even though that was their first night in Prague. Dave the Aussie and Chris the Californian completed the crew.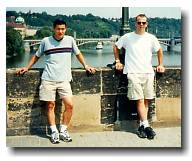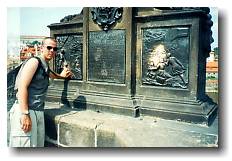 The most touristy area in Prague is Charles Bridge. A pedestrian bridge full of street vendors and painters. We crossed this bridge numerous times; many times bumping into people from the hostel. In the middle of the bridge is a statue with 5 stars on it. "If you make a wish with a finger on each star, you will return to Prague." The stars were so high on the statue that I'd have to get my climbing gear to touch them. Well, that in itself will make me return.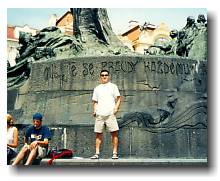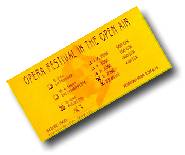 We saw most sights by foot, which included Josefov (Prague's historic Jewish neighborhood), Old Town Square, and churches. And believe it or not, I went to go see an Opera. This event was shared with Karyn and a couple of Canadians that we met at the hostel, Becky and (don't ask me to pronounce his name) Witec. I'm crediting Prague as the place where I saw my first Opera. Could be the last as well. I certainly won't be subscribing to an Opera magazine. Perhaps reading the wrong synopsis before hand put an unfair negative opinion towards to whole show.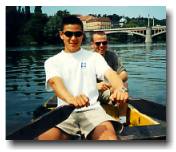 On Sunday, a good hour was spent on a canoe on Vltava River just chilling out. Soon after, Karyn, myself, and Prague said goodbye to Ryan, who had to return to work on Monday. Poor kid. Karyn and I were both on our 1 week holiday, and although we both wanted to stay in Prague longer, our limited time off work forced us both to continue on. Monday morning, we separated. Karyn was off to Olamouc (another city in the Czech Republic), while I was destined for Vienna.
---