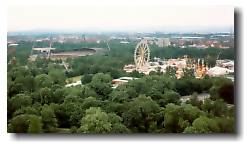 The Rathaus is where you get the best lookout of Hannover. To get to the top, you have to ride a slanted elevator. This tiny elevator starts angled in one direction, wiggles back and forth a little, and then ends up slanted in the other direction. Neato. Sure enough, once at the top, you get a nice view of Hannover.
None of us are art lovers, but Iíve never seen a real Picasso. And since the Sprengel Museum had exactly that, I sold the idea of attending to the other two. We went, we saw, we left.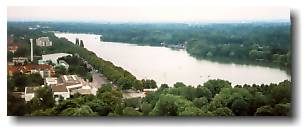 In front of Sprengel is Maschsee Lake. Itís a fake lake. A fake lake? Oh yes, a fake lake. A big one at that. 6.5km around. This lake came to be after many people grabbed their shovels and sacrificed their backs. Thereís no fooling around here. Unless you knew about the history, you wouldnít know itís a fake. There are many fish swimming within and the place is filled with rowboats and sailboats. I knew this was a tourist attraction when I had to pay 3DM for a small can of Sprite.
And thatís all she wrote.
Sunday July 4, 1999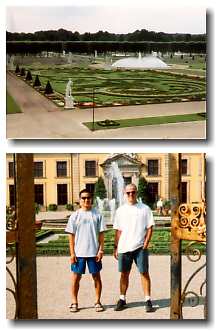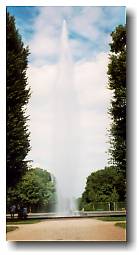 After our biking trip to Celle (next page), we got back to Hannover at only 2pm. There was still a lot of the day left. We (Ryan and I the bikers to Celle) joined Ben and Paul and headed to Hannover's largest Garden, Herrenhausen Garten. This garden was big. Anything you'd find in Vancouver would pale in comparison. There was also a water shoot that, according to Let's Go Germany, shoots water 80m high. That's where the Harvard Let's Go writers are wrong. If that water shoot is 80m high, I'm 3m tall. Maybe Harvard students need to take some technical electives in the same way that we (engineers) need to take Arts electives.
It's unchronologically ordered, but you can find out what we did before the visit to Herrenhausen Garten in the next page.
Next: Biking to Celle, Germany
---