Trip #3: Sunday June 6, 1999
Where the heck is Hamelin? Just 45 min. south west of Hannover. And why did we choose to go there? An American in Hamburg recommended that we go there to see 16th century architecture. That was enough reason for me. So we (Ben, Ryan, Paul, myself, and our bikes) hopped on a train to Hamelin.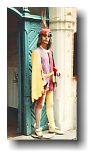 Hamelin is where the Pied Piper tale originated. Anything that Hamelin has to offer has something to do with Pied Piper. Look left, look right, Pied Piper is there. From statues, postcards, theatres, books, museums, Pied Piper has something or everything to do with it. Thereís no escaping it. Pied Piper has set foot on Hamelin and is there to stay.
For those of you who donít know the Pied Piper tale, hereís my interpretation of it. (Iíd better get it right because I heard it in English, French, and Japanese. German too, but that doesnít help much.)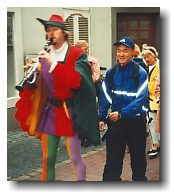 In 1284, the city of Hamelin was flooded with rats. In desperation, the city seeked any help. A man that played a pipe (Pied Piper) offered to remove all the rats for a fixed sum of 100 gold pieces. The mayor agreed. So the Pied Piper played his pipe and led all the rats to the Weser River, where they all drowned. Now rat free, the city celebrated, but neglected to pay the Pied Piper more than 1 piece of gold because his work was too easy. Furious, the Pied Piper returned later that year and played his pipe once again. This time, instead of attracting rats, he attracted children. He led 130 children away from the city and their parents never saw them again.
Hamelin doesnít waste any time. Upon arrival at the train station, we saw two statues of Pied Piper.