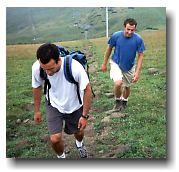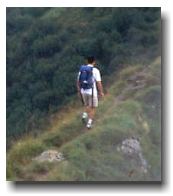 We had 3 action packed days in Gryon. 2 of them were spent hiking. A low-level hike up to a small peak in Col de Bertei and a hike-till-you-drop up to "THE CROSS". Oh yes, THE CROSS (2014m, so OK, it's not that tough). Sure enough, at top is a big cross. We were definitely at the peak. A narrow trail continued on forward, but look left or right, there was a steep vertical drop. So, one step the wrong way and you're free falling. What was worth every step along the way is the view at the top. The view was crystal clear on one side and cloudy on the other. How cool is that? You have to hike to see what it's like.
Ryan and Ivar opted not to hike to the Cross with us, but with their decisions to go skiing in the Matterhorn and paragliding in Vallars, respectively, how can you blame them. There's something for everyone in the Alps.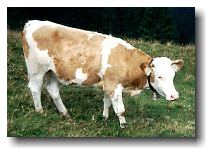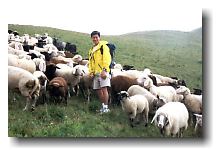 Now back to the hikes…throughout them, there was not much sign of civilization, but a lot of sign of animalization. Cows everywhere doing, well, eating grass as best they could. Goats were a little friendlier, as they surrounded us every time they got a chance, but only because of our hunky good looks.
Sharing land with animals wasn't so bad, until we spent a whole day mountain biking. The big pancake looking puddle that cows leave behind when nature calls was really bothersome when it hit our bike tires and got flung up into our faces. We could have improved the situation had we not ridden SO FAST, but our NEED FOR SPEED got the better of us. How did we solve the problem of the tedious uphill climbs? We got an all day Telecabine (gondola) pass of course. Were the trails tough? Well, compared to the North Shore, no. But when we got off the biking trail and headed down a hiking trail, there were some pretty ugly sections. Add to the fact that we had no helmets, proper pedals, or anything else that's considered a requirement, we did pretty well.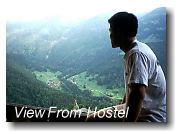 Goodbye Paul, who's going to Denmark for his next 4 month work term, where he'll work as a rocket scientist. No really. Ben is off to Spain, where he'll continue to chase woman.
As for Ryan, Ivar, and I, Chow Italia.