Trip #9: Wednesday September 1 – Friday September 3, 1999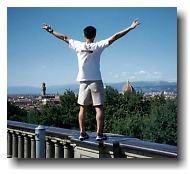 Florence made up for all the lackluster meals we had to settle for in Venice. Money spent was not money worth in Venice. But in the red headed city of Florence, Ryan and I feasted. (Ivar didn't come with us. He went to Padova. A city that's as famous as Cloverdale. Why and what he went there for is a mystery that will challenge the best rationalists.) Our first dinner was at a local hangout called Trattoria da Giorgio. There, we saw a lot of stereotypical Italians. You know, the humble type. Hungry? We were. The price for dinner is set, but what we were going to get was a mystery. After our plates of pasta and glasses of beer (which we thought was all we were going to get), we were still hungry so we chowed down on the free bread until our tummies were full. After teasing us with the small portion of Pasta, we got asked what we want for our main course. Turkey for me and Pork Chops for Ryan. At this point, I had to loosen my MONEY BELT. Then we got more: side orders. Now, my stomach was about to challenge Kilauea. Since we ate all our bread, they brought more and more and more. Hungry? Not us.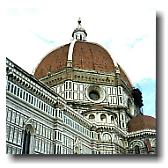 We saw the Duomo. What? The biggest cathedral in Europe? This one as well? What happened to the Dom in Cologne. How many biggest cathedrals are there? We climbed the maze-like stairways up 463 steps to get a bird's eye view of Florence's narrow streets. Shhhh, don't talk while climbing in the cathedral. They have professional Shush patrols. Very effective ones at that. They can shush louder than anyone can yell. They were called to other duty when a guy hopped on top of a rail to take a pic. A shush patrol ran in her high heel shoe at a speed that will only make turtles jealous. And the sound that high heel shoes make on the marble floor? Makes me want to tell them to Shhhh.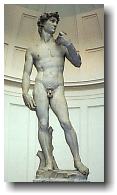 Saw the naked statue of David. The real and the fake one. Both made out of the same material (marble) and they're the same size. The only way to distinguish the real one from the fake is to look for all the cameras pointing towards it. The fake stands in Piazza Signoria, where the original used to be before Florence decided they want to make money off of it and stuck it in a museum. Michelangelo gets a lot of credit, but hats off to the person who made the fake, which was just as difficult.
Saw a little bit of the residential area of Florence with their narrow streets and tall trees hiding behind tall walls that separates houses from the street. Also, Fort Belvedere is a real classical fort that will satisfy the child in anyone.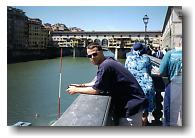 For anyone visiting Florence, go to Ponte Vecchio Bridge. On the west side of the bridge around the middle, I placed my padlock on a small pipe and threw the key into the river. You'll find my lock with tens of others. On the top side of the lock is scribed Koala (the name of the lock) and underneath, I scribed "JOHNNY OSHIKA 1999". Check it out and let me know if you see it.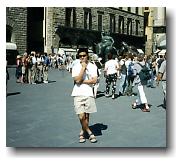 Street vendors are continuously fighting off cops in Florence. There's a long line of them in one of the most touristy streets, but they all pack up when patrols pass by. No more than 2 meters after the patrols pass 'em, they're open again for business. Since patrols pass by often, watching the street vendors pack-up and set-up and pack-up and set-up was entertainment for one our nights.
And guess who we bumped into on the last morning at our hostel? Ivar himself. Seems as though Padova didn't turn his crank. He's off to Rome next. As far as Ryan and I, we're off to the Italian Riviera, with a short stop at Pisa along the way.