Trip #9: Saturday August 7 – Sunday August 8, 1999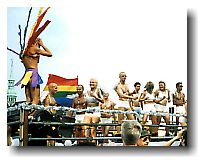 Paul and I went straight to the train station after work on Friday. Our destination was Copenhagen, where there was an organized all-inclusive get-together for trainees working in Europe. We were to meet about 175 trainees there, most of whom arrived a day earlier. The train ride consisted of riding a "reservation only" train without reservation. Regardless, we were able to ride the train, which went onto a ferry to cross the Baltic Sea. Cool.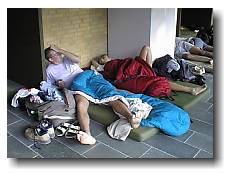 After arrival in Copenhagen at about 0:30 Saturday morning, we were picked up and taken straight to a private party at a Bar/Club. There, we met the other Canadians working in Hannover (Karyn, Ryan, and Ben) among other trainees. It wasn't until 4am that we finally saw our accommodation. Hundreds of mattresses had been laid down in a hallway of a Denmark Technical University building. Call it what you want, but for me, anywhere where I could lie down seemed homey at that time.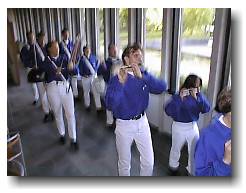 No later than 3 hours after going to sleep, I experienced the most effective wake-up call I have ever seen. A marching band playing drums and flutes in our ears. It wasn't long before 175 people were wide-awake and ready for a full day of touring.