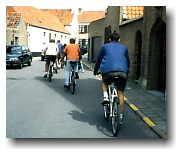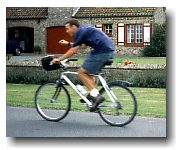 The rain that looked so prominent in staying indefinitely, disappeared when we began our guided cycling tour of the area. Most likely because Ryan was given a rain jacket before the tour. This tour is definitely the best way to spend 4.5 hours in Bruges and its neighbouring cities. And I'd love to see the look on Paul's face again, when the tour guide was explaining how to ride a bike without falling over. I couldn't tell if that look was because he was insulted, or he finally solved his riding problems.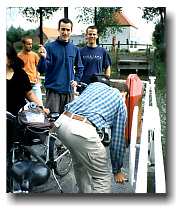 Ironically enough, the tour of Bruges left Bruges at its first opportunity. It covered 30km of smooth road, cobblestone road, and dirt. Most of it was outside Bruges. We even got to the border of Holland. The most interesting part of the tour? A manual cable operated ferry that we used to cross a canal. The most interesting story of the tour? The citizens in the city of Damme used to be less than 4 feet tall. This was because of the malnutrition that came from mixing drinking water and sewer water. To put an end to this, a mayor put in a pipe system for citizens to have clean drinking water. But the pipes contained lead, which gave brain damage. Word has it that lots of crazy people came out of Damme. Perhaps John-Claude Van "Damme" himself.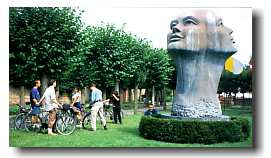 What we could have done without during the tour was the water in the water bottle. That lemony smell was only briefly pleasing. There was dish soap in there. Ryan first thought it was Joy, but we all agreed later that it was probably Cascade.